[ad_1]

Sep 25, 2022; Minneapolis, Minnesota, USA; Minnesota Vikings wide receiver Adam Thielen. Mandatory Credit: Jeffrey Becker-USA TODAY Sports.
Vikings Insider, The GM's View 
There were a lot of games during my NFL management career when we would barely find a way to win at the end. In the postgame locker room, I would say to our players and coaches, "We got the W, and that's all that matters. In three weeks, everyone will forget how it happened, and they don't give style points in the NFL—just a W, an L, or the occasional tie."
The Vikings did enough on offense and defense to fight off an improved Lions team that predictably played Minnesota tough. I thought going into this game that a 5 ½ point spread in the Vikings favor was too much, especially considering both games last season had two-point margins, with each team winning at home on the final play. 
The bottom line is the Vikings came through by outscoring the Lions 14-0 in the fourth quarter. They made a couple of defensive stops, and two 4th Quarter touchdown drives were engineered by Kirk Cousins to rally from a 10-point deficit for the 28-24 victory in front of a home crowd that turned from booing in the first half to cheering at the end. It's an important win that moves the Vikings to a 2-1 record (2-0 in the NFC North). 
Here are my other reactions to Sunday's win over a Detroit team that is on the rise:
1. Starting this Sunday with the matchup in London against the Saints, the Vikings can't fall behind by double digits early as they have been down 14-0 by early in the second quarter the past two games. They were able to rally to the late win over the Lions, which they couldn't do in Philly. It's not a good formula for success to get two touchdowns behind early.
2. Cousins was shaky in the first quarter, with Detroit blitzers putting on the pressure before settling down in the mid-second quarter. He later stepped up with big-time throws to Adam Thielen and K.J. Osborn on the two 4th Quarter TD drives. Cousins made a great throw for the winning 28-yard score to Osborn with a rusher in his face. 
3. The offensive line did a nice job in run blocking and, for the most part, in pass protection, although Ed Ingram needs to continue to improve in pass pro. The line helped Dalvin Cook to 96 yards rushing before he left with a shoulder injury (and the team hopes he'll be back against the Saints), and Alexander Mattison made a great power run for a 6-yard TD to bring the Vikings to within three points in the fourth quarter. 
Tackles Brian O'Neill and Christian Darrisaw did an excellent job on second overall pick Aidan Hutchinson who had three sacks against Washington in Week 2 but had no sacks and no tackles on Sunday. 
4. Coach Kevin O'Connell must go back into his Cooper Kupp playbook to spring Justin Jefferson free from sticky corners in man-to-man coverage such as he's faced the past two weeks in Philadelphia's Darius Slay and Detroit's Jeff Okudah, along with the double teams he regularly sees. It's fine to go to talented receivers in Thielen, Osborn, Irv Smith Jr., and Johnny Mundt, but Jefferson should always have more than six targets. And he did draw a couple of penalties that helped the Vikings cause. 
5. I like O'Connell's aggressiveness at the end of the first half with trying to get in field goal range (they fell short partially due to the officials not calling Detroit for delay of game) and at game's end with taking the deep shot to Osborn instead of settling for a field goal to send the game to overtime. 
6. Once again, third down conversions were a problem for the Vikings offense, going 2 of 9 after converting 8 of 25 the first two weeks. That's 29% on the season, which ranks 26th in the league, with the top 10 teams between 40% to an amazing 61% by Buffalo.
7. It was highly unusual to see one player—Lions corner Amani Oruwariye– flagged six times (two declined) for illegal contact or pass interference. He also was all over Thielen on a 4th Down pass in the fourth quarter where no flag was thrown, and that non-call could've cost the Vikings the game. Jefferson also was interfered with several times by Okudah with no call made by this inconsistent officiating crew (but the Vikings' Patrick Peterson also got away with a grab on a late drive). 
8. It was an up-and-down day for the Vikings defense against a very good Lions offensive line with more issues in run D as Jamaal Williams and the hobbled D'Andre Swift (ankle) combined for 118 rushing yards and in pass coverage with no sacks and little pass rush before playing much better down the stretch in both areas. 
Two players who stood out were vets, Eric Kendricks and Patrick Peterson. They both were in on huge 4th Down stops—Kendricks in the second quarter, breaking up a 4th-and-2 pass from Jared Goff to tight end T.J. Hockenson (and finishing with 11 tackles and two pass breakups) and Peterson combining with Danielle Hunter to stop Williams on a critical 4th-and-1 play with five minutes remaining along with having several key pass breakups.  
Josh Metellus, not top pick Lewis Cine, was the coaches' choice to replace safety Harrison Smith (out with a concussion, but O'Connell says he'll return for the New Orleans game). Metellus had 11 tackles, two passes defended, and ended Detroit's final drive with an interception of Goff (thanks in part to Za'Darius Smith and D.J. Wonnum pressuring Goff) after dropping a potential interception on the previous play. 
9. Crossing routes continue to cause problems for the Vikings secondary, with Josh Reynolds, Amon-Ra St. Brown, and D.J. Chark combining for 15 catches (10 in the first half), often on crossing routes. The Saints—with three excellent receivers in Michael Thomas, Jarvis Landry, and Chris Olave—are sure to test the Vikings secondary with a similar plan. 
10. The Vikings kickoff coverage unit continues to be outstanding, with Kris Boyd and rookie Brian Asamoah making great tackles on a good returner in Justin Jackson. It was another excellent punting game for rookie Ryan Wright who had a 52-yard average. But Greg Joseph pushed both of his long field goal attempts wide right from 56 yards.  
Now the Vikings head to London to renew their rivalry with the Saints, who ran up the score in a 52-33 win on Christmas Day in 2020 after the Vikings had pulled off an upset playoff win in New Orleans the previous season. 
Around the NFL Observations:
1. It was another upset Sunday in the NFL, with the Colts getting their first win as they knocked off the Chiefs in Indy, the Jaguars whipping the Chargers 38-10 in L.A., and the Panthers winning their first game at home over the Saints (with Jameis Winston throwing two interceptions, something the Vikings would love to see in London). 
2. With Buffalo so impressive in the first two weeks, it was a mild surprise to see the Dolphins beat the Bills 21-19 in Miami to become the AFC's lone unbeaten team. Josh Allen passed for 400 yards and 2 TDs but fumbled three times, losing one at his own 6-yard line. The Bills outgained the Dolphins 497-212, yet still lost.
3. The Packers took advantage of Tom Brady missing his top three receivers and beat the Bucs 14-12 in a defensive battle. Green Bay and Chicago remain tied with the Vikings at 2-1 in the NFC North, with the Packers hosting the Patriots and the Bears headed to the Meadowlands to face the Giants this Sunday.
---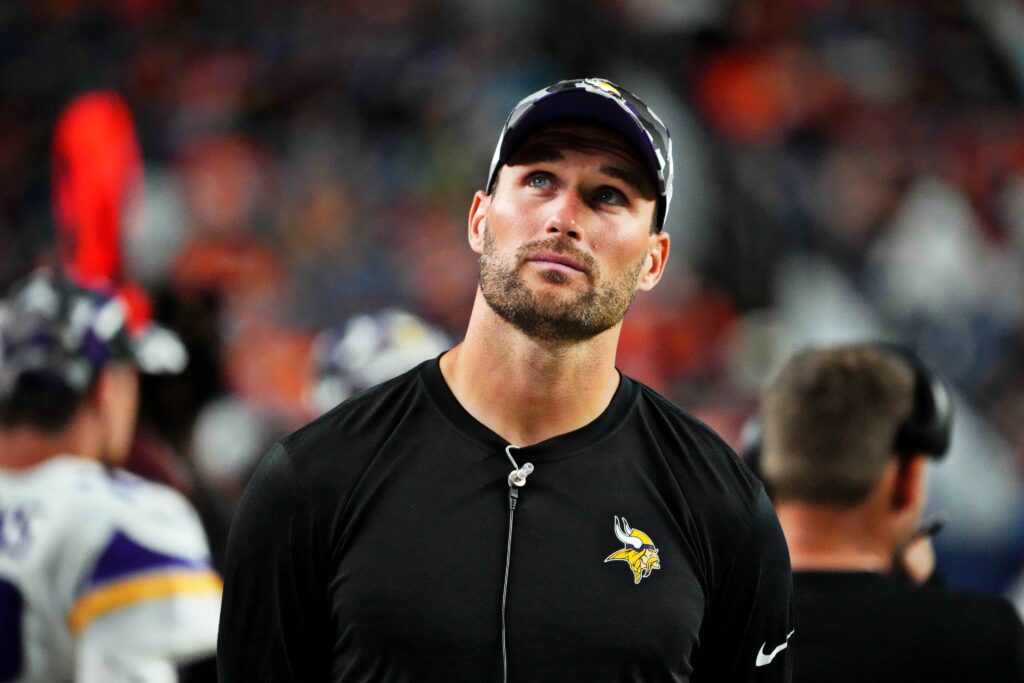 Jeff Diamond is a former Vikings GM, former Tennessee Titans President and was selected NFL Executive of the Year after the Vikings' 15-1 season in 1998. He now works for the NFL agent group IFA based in Minneapolis and does other sports consulting and media work along with college/corporate speaking. Follow him and direct message him on Twitter– @jeffdiamondnfl


[ad_2]

Source link