When you watch "Fakes," starring Emilija Baranac and Jennifer Tong, know that there is a third star: money. And while Baranac and Tong play Zoe and Becca, respectively, and can pull inspiration from their real lives, the blue, purple, green, red and brown bills you see on the screen are the real deal. Why? Because—fun fact—it's illegal to use fake money in Canada, even on a CBC Gem TV show like "Fakes." (It's viewable on Netflix outside of Canada.)
The two teens embark on a massive fake-ID business, learning about the power of money and its impact on ego and motivation. Oh, and on their friendship, too. In addition to the comedic drama that ensues when teens have access to more (Canadian!) money than they even knew existed, there are financial subplots, too. Tayocoin, for example, is a fictional crypto that shows how monitoring the ups and downs can affect investors' emotional states.
Baranac ("To All the Boys I've Loved Before") and Tong ("Grand Army") take the My MoneySense Proustian-style questionnaire to reveal their views on money and more. No acting here.
Who are your money heroes?
Baranac: My character Zoe. That girl is really ambitious.
Tong: Zoe! When you watch our series, you'll see the way she colour co-ordinates her Canadian dollar bills in a money box.
How do you like to spend your free time?
Baranac: Watching YouTube videos.
Tong: I love exploring beautiful Vancouver, trying new restaurants and cafes in the city, taking dance classes and travelling.
If money were no object, what would you be doing right now?
Tong: I'd probably be sipping on a glass of sangria on a yacht in Greece. #BeccaVibes
Baranac: Buying my parents their dream home.
What was your first memory about money?
Tong: I think my first memories of money were asking my mom to buy candy bars at the grocery store, and her saying no because we couldn't afford it. Now, I try to buy her an Oh Henry! bar whenever I can.
Baranac: I woke up when my mom tried to put a dollar coin under my pillow for losing a tooth. I learned the tooth fairy does not exist.
What's the first thing you remember buying with your own money?
Baranac: Probably some cool stuff at Claire's. I loved that place.
Tong: Probably some clothes from Forever 21.
What was your first job?
Baranac: I worked on my first commercial as an actor when I was nine years old. My parents probably saved that money for me.
Tong: I worked at a little gift shop in Steveston Village in Richmond, B.C. and I probably spent my first paycheque getting froyo at Timothy's right across the pier.
What was the biggest money lesson you learned as an adult?
Tong: A mentality that I've learned recently and am trying to incorporate more into my life is that "money comes, money goes," especially with working in the acting industry. For me, growing up poor, money was something that was very limited and precious, so I'm trying to let go of being so money-oriented and focus on more important things like connection and being present in the moment.
Baranac: Taxes will most likely eat a big chunk of your money. I try to plan ahead and anticipate how much I will need to pay for taxes so I don't overspend, and I'm not broke the following year.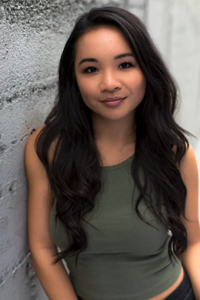 What's the best money advice you've ever received?
Tong: My popo, which is Cantonese for maternal grandmother, always said, "If it's a problem that money can fix, it's not a real problem," which is a pretty privileged point of view. But what I take from it is that the things that really matter in life can't be bought or solved with money.
What's the worst money advice you've ever received?
Tong: That it's worth it to spend thousands of dollars on headshots. It's not.
Would you rather receive a large sum of money all at once or smaller amounts regularly for life?
Baranac: Large sum all at once! I don't have time to wait; I'm too impatient.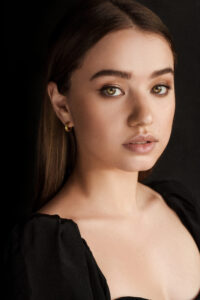 What do you think is the most underrated financial tip?
Baranac: Opening a TFSA account.
What is the biggest misconception people have about growing money?
Baranac: That a high-risk investment will lead to a better return.
Tong: That's a tough question. I don't know, I've heard Tayocoin is pretty volatile. Tryst (another "Fakes" character) doesn't seem to have a lot of luck with it.
Can you share a money regret?
Baranac: Renting apartments. Unfortunately, it's my only option at the moment.
What does the word "value" mean to you?
Tong: I love splurging when going out to restaurants and bars. I'm paying for the experience, not just the food and drinks.
Baranac: Value is something that I can get a lot of use out of over a long period of time. That's why I believe in investing in certain things like new technology, certain pieces of furniture, cars—I don't currently have a car, but if I did I would certainly invest in a new one.
What's the first major purchase you made as an adult?
Baranac: TBD. I'm still working towards my first major purchase as an adult.
Tong: I'm not a huge splurger when it comes to material things. I like buying secondhand or thrifting.
What was your most recent splurge?
Tong: I bought matching sweatpants, sweatshorts and hoodie from Girlfriend Collective. They make everything ethically, sustainably and with recycled materials.
Baranac: I surprised my boyfriend with a trip to NYC.
What is something you always have in your wallet?
Baranac: My credit card.
Tong: My Scene card. Gotta get those points.
What is your favourite possession?
Baranac I have a stuffed Winnie-the-Pooh my grandma gave me when I was younger. We used to play with it a lot when she would visit Canada. It brings up really nice memories of our time together.
Tong: I have a doll that my family gave me when I was born and I still snuggle with it to this day. Her name is Ruby.
What's your next money goal?
Baranac: I would love to buy an apartment.
Tong: I want to visit every continent before I'm 35. So, save up enough for that?
My MoneySense quick questions
Rent or own?
Baranac: Own.
Tong: Rent—for now.
Buy or lease?
Baranac: Buy.
Tong: Lease.
Save or invest?
Baranac: Invest.
Tong Mix of both!
Budget or not?
Baranac: Nah.
Tong: Not.
The post "Fake" stars give the real answers appeared first on MoneySense.