[ad_1]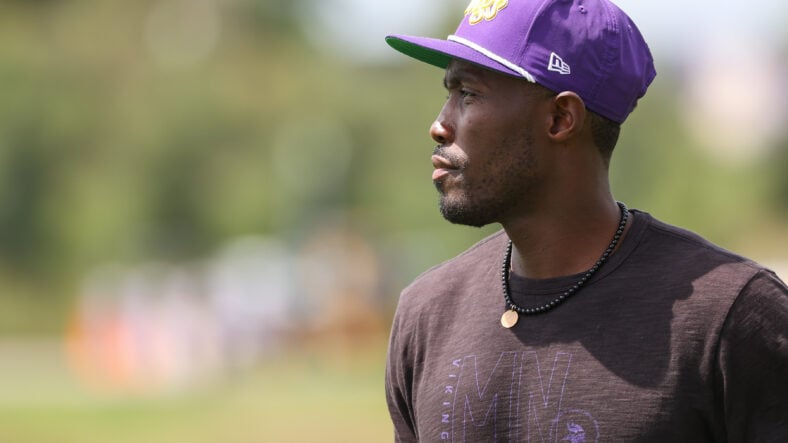 Jul 27, 2022; Eagan, MN, USA; Minnesota Vikings general manager Kwesi Adofo-Mensah. Mandatory Credit: Matt Krohn-USA TODAY Sports.
Kwesi Adofo-Mensah, the first-year general manager, tried to fill as many holes as possible in the offseason. His task wasn't easy, as the team needed multiple new starters on defense and was over the cap limit. For that reason, Adofo-Mensah signed players to cheap one-year deals. Four Vikings starters will hit free agency.
Dalvin Tomlinson
The defensive tackle signed a two-year contract in the 2021 offseason. He was supposed to stifle the opposing running game together with Michael Pierce. He cost the Vikings $10.5 million per season, so he was a highly prized player at his position. Almost two seasons later, he is not a splashy player, but he's worth every penny. Tomlinson is a remarkably consistent player and is excellent in the running game while providing a solid pass rush for a nose tackle without lighting up the stat sheets.
The Vikings are on the hook for $7.5 million in 2023 against the cap because they added void years to keep his cap hit down. If they sign an extension, they could spread that dead cap hit out over the length of the contract. Re-signing Tomlinson seems to be a no-brainer. It's not easy to find a good replacement, and it would help to stay under the cap. He'll turn 29 in February and has a couple of years left in the tank.
Garrett Bradbury
The Viking was the highest-drafted center in two decades. The organization and the fans had high expectations for him. His first three seasons, however, were disappointing.
Bradbury has always been a solid run blocker, using his athleticism, but his pass protection was suspect. Powerful defensive tackles regularly pushed him into Kirk Cousins' lap and destroyed plays and drives. In this season, a lot changed. Bradbury is still a much better run blocker, but his protection is no longer a liability.
There are only a handful of excellent centers in the league, so the Vikings should consider re-signing the former first-round pick. Once he hits free agency, the demand may be high because many teams look for offensive line help.
Patrick Peterson
The cornerback was a superstar in his prime and went to eight straight Pro Bowls from 2011 to 2018. After that stretch, his level of play dropped off, and he had his worst career year in 2020 before he signed with the Vikings to play under former head coach Mike Zimmer. His play was not spectacular but solid. Zimmer was let go, and the new regime brought Peterson back on a second one-year deal, this time for only $4 million instead of the $10 million in 2021.
The scheme change seemed to help him, as he's playing a fantastic season. Opponents expose every other Viking in coverage but not Peterson, who's locking down receivers weekly. Two of his three interceptions came against the Bills in huge moments.
With the uncertainty at cornerback, especially concerning the other cornerbacks on the roster, the Vikings should try to get another year of Peterson at cornerback.
Chandon Sullivan
Mackensie Alexander handled the slot cornerback duties in the 2021 season and was a liability. The Vikings had to make a change and let Alexander walk in free agency. His replacement played in the NFC North for the Packers. After one season with the Eagles and three with the Packers, Sullivan signed a cheap one-year contract in Minnesota.
He has been an upgrade over Alexander and was a good signing considering the low costs. Like good centers, good slot cornerbacks are hard to find. There are only a few really good ones because great cornerbacks play on the outside. Similar to the situation with Peterson, bringing back Sullivan could make sense. However, the Vikings should keep their eyes open for an upgrade.
---
Janik Eckardt is a football fan who likes numbers and stats. The Vikings became his favorite team despite their quarterback at the time, Christian Ponder. He is a walking soccer encyclopedia, loves watching sitcoms, and Classic rock is his music genre of choice. Follow him on Twitter if you like the Vikings: @JanikEckardt


[ad_2]

Source link